Buying Rental Property in BsAs
With its Old World European charm, Buenos Aires is one of those places that people just love. People continue to come here in increasing numbers every year and many return to invest in property. The city, known as the Queen of the Plata (River) and the Paris of the South, is well known as one of the best cities in the world in which to invest in real estate. In August of 2006 the Buenos Aires bureau of records recorded 5,583 deeds involved in real estate purchases worth a total of about 330.7 million US dollars. Argentina is one of the world's fastest growing economies and Buenos Aires is one of the world's fastest growing cities. "Perhaps the most tangible sign of Argentina's economic recovery," the Wall Street Journal reports "is its booming real estate market, which has transformed Buenos Aires, into a construction site." Estimates peg Argentina's economic growth at over 8% annually.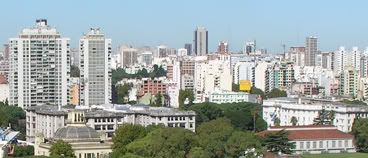 There seems to be no end to this trend in construction and sales, commonly referred to as a real estate boom. Unlike the real estate bubble of the Northern Hemisphere, most specialists believe that it is here to stay. "It is not a bubble because we are dealing with growth that is real. The capital they are using for construction is real, and there is practically no bank financing [of construction projects]," says Gustavo Kancyper. He is an architect who manages Construcciones Seweco, a company that constructs buildings in Palermo Hollywood, one of the neighborhoods popular with investors. For the most part real estate transactions are in cash here, therefore credit and excessive leverage do not make up the foundations of the Argentine real estate boom.
In short, there is no bubble here as what we are talking about is private investors who know how to anticipate market trends. Currently demand is exerting upward pressure on prices which in turn is stimulating growth in the supply. There is currently a relatively high growth in the population segment that is old enough to get married and becoming independent. Additionally the demands of tourism continue to grow in Buenos Aires. With tourism expected to reach 10 million people per year by 2010 the demand for hotels, hostels, and vacation rentals continue to make purchasing and renting property in the city a great investment.
Rental yields are great in the city and you can expect to buy an apartment here and get 7 to 8% return. Also as the supply of available property continues to be an issue as tourism expands, all the signs are present that rental yields will continue to increase again. Some experts are predicting upwards to 10% to be realized soon. Currently 4 and 5 star hotels are experiencing annual occupancy rates of over 80% so apartments to rent to tourists are always going to be in demand in this city.
Reasons to Buy
First off, the northern hemisphere very closed and saturated in many sectors. Buenos Aires remains one of the most desirable and affordable cities to purchase real estate in with prices in even the most exclusive neighborhoods sitting at between one-fifth to one-tenth that of Europe and the United States. Current estimates also show that the international situation offers high liquidity and interest rates in Argentina are low. The country has been stabilized and economic forecasts call for growth rates in the future at nearly 10% a year. According to an Argentine real estate trade group, Camara Inmobiliaria Argentina, housing prices have increased 50% since 2002 and according to Credit Suisse in a report from a little over a year ago Argentina is undervalued at between 20-30%. Obviously the time is ripe for investment and development as economic considerations continue on a dramatic upswing.
Argentina currently presents a windfall of an opportunity, especially if you already own property here or are in the process of obtaining holdings. Local prices for your investment could rise an additional 20 to 30% from inflation alone until the peso catches up in value, which will increase your returns by at least that much or possibly even more. Additionally as property is in such high demand here you are not likely to have any problems selling at some point in the future if you so desire.
Second, as noted above properties rent for high amounts of money here. With an ever increasing demand for rental property not only by nationals, but also through the expansion of the tourism industry, expected returns will likely reach close to 10% in most areas in the next two or three years and could reach as high as 30% in some more exclusive parts of town.
In addition to apartments in the city, there is also a very attractive market for real estate in the suburbs. Of particular note are the northern suburb's gated communities that currently are seeing annual returns of about 7% a year. Overall, houses in the northern suburbs rent very well, especially for long term rentals to the corporate expatriate market. There is an English-language school there, shops, restaurants, parks, and even a commuter train that goes to the city. Investment in these areas undoubtedly has great potential for long-term appreciation (long-term being more than the expected two or three years of apartments in the city).
Third, housing prices are continuing to go up. Prices in the city's wealthier districts have shot up by as much as 25% in the last year. More important the real estate boom here is just that: a boom and not a bubble. Investment in real estate here is in cash so real estate prices are real. Mortgages and interest rates simply do not factor in when looking at the ever expanding real estate market here in Buenos Aires.
Fourth, capital gains opportunities are incredible here. A recent report by Report Inmobiliario notes that "investing in real estate in Buenos Aires continues to be a valid investment option". That same report notes that it is worth remembering that there is no capital gains tax here if or when you decide to sell.

Finally, Buenos Aires is a developing city in a country of ever expanding economic development. With a reported Gross Domestic Product increase of about 8.6% in 2006, and an expected increase in tourism from about 4 million people this year to over 10 million by 2010 the country is booming. There are numerous projects in the works to rehabilitate many areas of the city as well. For instance there is a train track between Palermo Hollywood and Soho where there are several large storage units whose leases are currently expired. The government here is looking at rebuilding the area and are looking to construct a cultural center there, a mall, and movie theaters making investing in the area now a lucrative proposition.
As one can see, reasons abound to purchase property here in Buenos Aires whether for your own use or as an investment. Prices of real estate here continue to remain a fraction of that in Europe and the United States, rental prices are on the rise, tourism and the economy are increasing, capital gains are virtually guaranteed, and most important the real estate boom is just that and not a bubble that is expected to crash in the northern hemisphere.
Short URL: http://goodmorningba.com/?p=179